On Sunday 5th August, Rev McCarthy was unanimously elected to serve the parish of Garthamlock and Craigend East in the Presbytery of Glasgow.
Scott's last service in Langholm will be Sunday 23rd September
Presbytery have appointed Mr Alan Dodds as interim moderator with immediate effect for the next six months

There will be a leaving function for Scott in the Social Club
on the evening of Wednesday 26th September at 7.30pm- all welcome.

There is a collection for a farewell gift for Scott.
Contributions may be handed in at a selection of establishments in the town ( look out for notices) or handed to any elder.
The collection will close on 30th September and a gift will be forwarded to Scott.


SEPTEMBER SERVICES

Sunday 16th - Ewes 6pm
Sunday 23rd - Langholm 10am
Sunday 30th - Langholm 10am



HOLY COMMUNION





Sunday 16th September - Ewes 6pm



---
RELATIONAL MINISTRY RE-IMAGINED
There will be a meeting on the above topic in Canonbie Parish Church on Saturday 6th October.
---
.
HENRY'S PIANO PUSH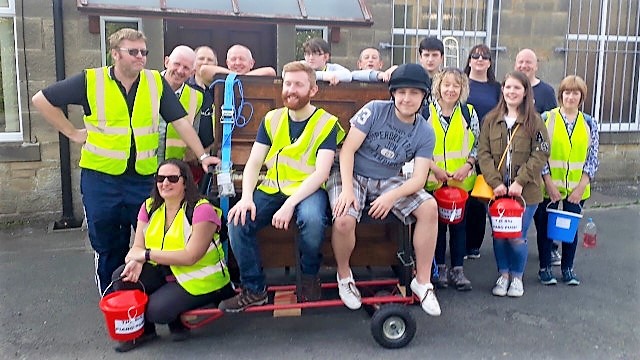 (Thanks to Deborah Maxwell who took the photo)
Printed below is a message from Henry as published on Facebook: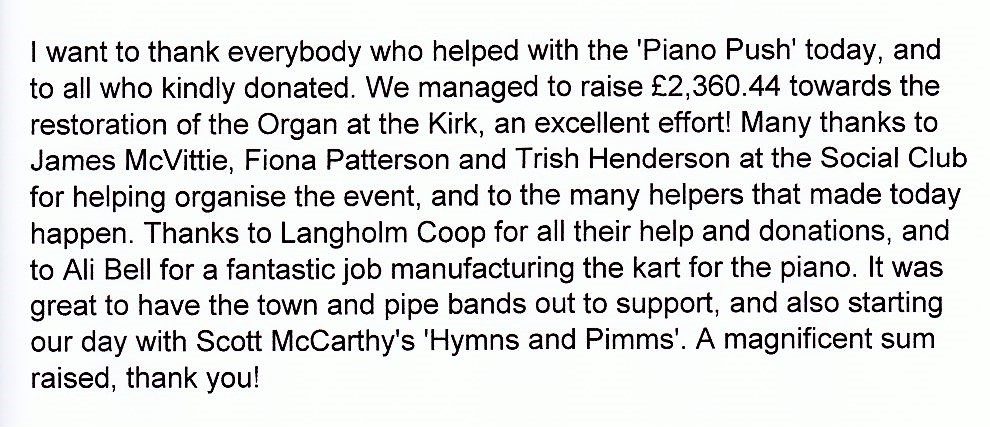 A huge thank you is also due to Henry for all the hard work he put into organising and taking part in this venture.




WELL DONE TO ALL
CHURCH CHOIR
After its August break the Choir will resume full activities.



PRACTICES ARE REVERTING TO AFTER THE SERVICE ON A SUNDAY AS FROM 9TH SEPTEMBER

NEW MEMBERS EXTREMELY WELCOME



---
Tea/Coffee afternoon in Langholm Parish Church
Wednesday 3rd October : 2pm - 4pm
Everyone welcome.
The September afternoon raised £140




KATE'S KITCHEN
Kate's Kitchen will be opening in Langholm Church on Thursday 23rd August.
The next session will be on Thursday 20th September. 10am - 1pm
If you are able to give a few hours of your time, please contact the minister for more details.
---
---
CHURCH DUTIES
We are looking for volunteers to join a pool to help do duties on a Sunday, or sometimes at other times, to help giving out hymnbooks, taking collection and counting money after the service. If you would like to join the pool please let Avril (Grieve) or any elder know.
---